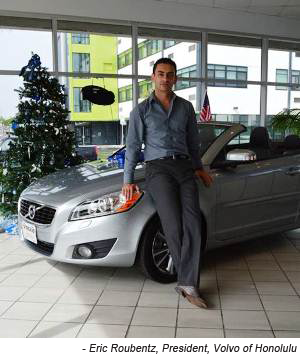 Often times, I hear the owners or leaders of brand new businesses use the words "I can't believe it" when opening the doors for the first time publically and embark on what hopes to be an incredible, promising journey. At Volvo of Honolulu, we can believe the time has come for us to show you what we stand for and all we have to offer. In fact, in some ways; arriving at this point has been the easy part.
The greater challenge will be living up to our commitment to be different - be unique. I state "Bigger isn't better. Better is better." Those are the words and premise on which Volvo of Honolulu was built. Everything we do is done with you in mind. Much more than any other, your opinion carries the greatest weight. Your influence is the most prevalent in our day to day operations. We wouldn't have it any other way. At Volvo of Honolulu, it is about you and the greater community.
A few years ago, I was moving from one side of town to the other. In doing so, I said goodbye to some of the businesses in which I regularly patronized. I'd find places closer to home for my day to day needs. My dry cleaner however, did not get replaced. I happily drive out of my way knowing I'm going to get a level of customer service that continues to exceed expectation. That's how it's been since day one. The atmosphere and employees at this particular dry cleaner are nothing short of incredible. They are true experts in customer service. I envision the same of Volvo of Honolulu.
What makes Volvo of Honolulu as a part of Envy Automotive Group Unique is the blueprint by which it was formed. It is a collection of companies and group of talented employees who all represent multiple brands. Growth and greater demand for our products led us down the expansion path. With 50 states to choose from - you might think the location decision was difficult. It wasn't. In our extensive research, Hawaii always seemed to top the list and fit in better with Envy Automotive Group's core values and mission. We are hard working, honest and appreciative. We care. Most of all; we too are committed to preserving a unique culture that is deeply rooted, meaningful and undeniable.
At Volvo of Honolulu, you will find only top-quality products that are tested for accuracy and performance before being placed into our selection. You will meet employees who put the highest of importance on passion and embrace opportunities for professional development to provide unmatched service in the industry. You will discover that it's not just a visit to Volvo of Honolulu. It is an experience.
If you haven't had the chance to see the difference in approach we take with our guests and customers, we invite you to do so. Even If you are currently content with your car or have no service needs at this time - stop in and say "Aloha." We are eager to meet the people who make up this wonderful community. As much as Volvo of Honolulu is a service and convenience to the customers we are equally as dedicated to being a friend and contributor to the City of Honolulu.
Sincerely,
Eric Roubentz
President
Volvo of Honolulu